EVENTS
Beyond Ferguson: Calling in the Healing of Our Ancestors
Saturday December 20, 2014 - 2:00 pm to 6:00 pm
We are all wounded by injustice, and deeply affected by the #blacklivesmatter movement sweeping our nation and world. This community event of grounding and healing offers an opportunity for our beloved community to practice together in silence, ceremony and sound.
Event details
Going Deeper in the Dharma: A Group for Committed Practitioners
Sunday December 21, 2014 - 9:30 am to 1:00 pm
As committed practitioners, we already have a resilient practice of sitting and walking meditation. Let's share a half-day of practice that will further our resolve.
Event details
Family Practice Class Series
Sunday December 21, 2014 - 1:30 pm to 3:30 pm
In the midst of the holiday season, come enjoy some physical family games based in meditative movement.
Event details
Ringing in 2015
Wednesday December 31, 2014 - 8:00 pm
The EBMC community will ring in 2015 with our annual ritual of setting and sharing intentions. We will explore what about the passing year we are ready to release, and also bless our individual and collective intentions for 2015.
Event details
Embracing Change
Saturday January 03, 2015 - 9:30 am to 3:30 pm
Join us as we explore how incorporating meditative practices and motivational tools can assist in meeting change with ease, grace and skill.
Event details
---
NEWS
Retreat at Joshua Tree with Larry Yang, Konda Mason, and others
posted on:
Wednesday October 22, 2014
This silent meditation retreat seeks to deepen our connection to the beauty of our lives and our world through the wisdom and gentleness of our hearts.
EBMC awarded the Cross Class Bridge Builder Award from Class Action
posted on:
Sunday August 17, 2014
"We appreciate the work that EBMC is doing to actively pursue participation by people of diverse classes and races; raise the voices and support the leadership of working class and poor people; and have an organizational culture that draws on the strengths of all class cultures."
WELCOME
Welcome to the East Bay Meditation Center
A diverse community sharing wisdom teachings and social engagement.
---
Core Buddhist Teachings: 6-Month Curriculum
---
EBMC REGULAR GROUPS
All regular groups except for the Teen Sangha are drop-in groups. No registration is required. Beginners are always welcome and meditation instruction is provided.
Alphabet Sangha Sitting Group
For LGBTQI/SGL practitioners. Tuesdays, 7:00pm - 8:30pm
Qi Gong for People
Tuesdays, 8:00am - 8:45am. On hiatus
ABC (All Bodies Centering) Yoga
A mindful movement class. Wednesdays, 5:15pm - 6:30pm. No classes Dec. 24 & Dec. 31, 2014

People of Color (POC) Yoga Group
Build strength and flexibility while cultivating mindfulness.
Thursdays, 6:00pm - 7:00pm
People of Color (POC) Sitting Group
For practitioners of color. Thursdays, 7:00pm - 9:00pm
Open Sitting Group
Open to all. Fridays, 6:30pm - 8:30pm
'La Casa del Corazon'
Una Sangha para apoyar a la comunidad que habla Español. Fruitvale Village, Suite #100
Recovery and the Dharma
For those in recovery from addiction of all kinds. 3rd Saturdays, 1:30pm – 5:00pm. No group on Dec. 20, 2014
Every Body Every Mind Sangha
For people living with disabilities, limitations, differences and chronic illnesses. Sundays, 6:00pm - 7:30pm
EBMC Teen Sangha
Open to teens ages 14-19. Wednesdays, 7-8:30pm. Registration required. No meetings on Dec. 24 & Dec. 31, 2014
---
DEEP REFUGE GROUPS
Peer-led community practice groups.
Multiracial Deep Refuge Group
Meets monthly in Oakland
Queer Leather Deep Refuge Group
Meets monthly in San Francisco
More info about these and other Deep Refuge Groups
---
COMMUNITY BULLETIN BOARD
EBMC community news, events, skill share, connections & resources. View our bulletin board
---
Recent Dharma Writing & Talks by EBMC Leaders





Are You Just Coasting?
by Jim Willems, Buddhadharma: The Practitioner's Quarterly, Winter 2014, LionsRoar.com





Building Diversity-Mature Sanghas
Interview with Mushim, Episode #4 of Danny Fisher's "Off the Cushion" podcasts



"Memory Is Political": Storytelling, Movement Building and the Third Noble Truth
Buddhist Peace Fellowship article by Mushim


Five Qs with Mushim about Dharma, diversity, social justice activism, and more, in Prof. Jee Yoon Lee's "writing like an asian" (thoughts on writing, composition, and issues of identity) blogsite, used by students at George Washington University in Washington, D.C. and available to all.



---
LIVE-STREAMING NOW AVAILABLE!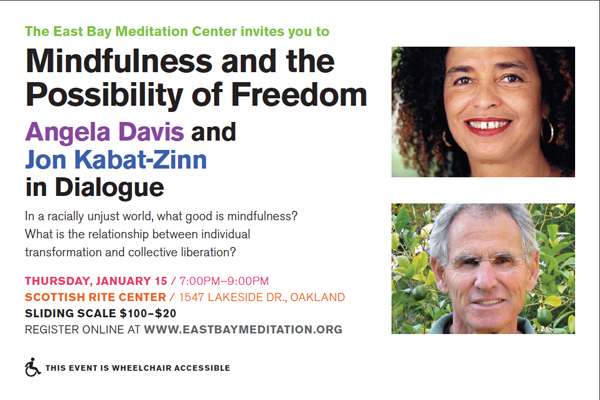 Click here for larger image.
Mindfulness and the Possibility of Freedom
Angela Davis and Jon Kabat-Zinn in Dialogue
A Benefit for EBMC
In a racially unjust world, what good is mindfulness? What is the relationship between individual transformation and collective liberation?

Thursday, January 15, 2015
7:00pm – 9:00pm
Scottish Rite Center
1547 Lakeside Dr., Oakland

Tickets to Mindfulness and the Possibility of Freedom have SOLD OUT.

We are excited to offer the opportunity to be part of the event to folks who cannot be in the house! Go to www.mindfulfreedom.eventbrite.com and purchase a sliding scale LIVE STREAM ticket.


---
Support Your EBMC Sangha by Adopting a Bill!
We are excited to announce a new way you can practice generosity and keep EBMC's operations running smoothly: Adopt a Bill! You can adopt all or part of one of our monthly bills by clicking below.

Two Sangha members have already generously participated in this way of giving. Deep bow of gratitude, Beloved Ones!

Some of our bills include:

Insurance: $425
Phone: $50 - ADOPTED
Office Supplies: $175
Internet: $30
Program Supplies: $85
Web Hosting: $18 - ADOPTED
Rent: $4000
Database Hosting: $20
Security System: $45
Online Communication: $80
Bookkeeping system: $20
Payroll Service: $150

Click on the Donate Now button. Choose the "recurring donation" option and indicate which bill you'd like to pay in the "Event/Program Designation" line. It's that easy!

---
EBMC Wish List
There are a number of items we would love to have at EBMC that would make our home even more warm, efficient, and accommodating. Please view the Wish List page for more details.
---
Getting Involved: Volunteers are the Heart of EBMC!
Volunteering for EBMC is fun and inspiring, and a great way to deepen your spiritual practice. We have a variety of volunteer positions, some of which can be done anywhere with Internet access, and some of which require being on site at the meditation center, either on a regular basis or for a specific, time-limited project. Our generous, talented volunteers are an important part of the heart of our community, and are all leaders in helping to make EBMC a vibrant and sustainable community resource. For more information, check out our volunteer page.
A few of our wonderful volunteer painting crew. To volunteer for other special projects like this, email through our Contact Us page. For more information about other volunteer opportunities, visit our Volunteer page.